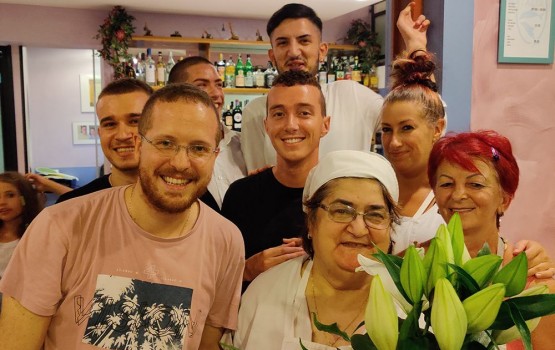 Located in a quiet and central position, away from traffic and noise, Hotel Natalia is just 40 meters from the beach and 30 meters from the pedestrian area of ​​Igea Marina, the perfect area for those seeking a stay at the sea away from the stress of the city.
Managed by the Ramberti family, which for three generations has been welcoming its customers every year with the classic hospitality that characterizes the Romagna region. The tradition begins with the grandparents in Igea Marina, then moved to Torre Pedrera with their parents and we are now ready to welcome you again to Igea Marina at the Hotel Natalia, with the attention and care of those who have always lived in the world of hospitality, making it their passion.
Direct contact, hospitality and a refined cuisine based on Romagna and seafood traditions are our strengths. The structure of the hotel has different types of rooms, perfect to accommodate even a whole family, and equipped with all the main comforts, to make your stay as pleasant as possible.
Come to know us. We would be delighted to greet you with a warm welcome!